Contact Us

How about some e-mail addresses?
You can reach us via e-mail at the following addresses:




How about some phone numbers?
Members of the media, and, of course, family and friends, you can reach us at our top-secret cell phone number and leave a message (because likely the phone will be off.) Just contact our official Media Relations/Press Agent/PR guy, Gerard, at gerard@youguysarestupid.com.

What else have we got?
You can scratch your name into this crazy tree (um... yeah, or whatever) we call our website by signing the Guestbook or just check out who's signed it so far.
Join in the conversation and the fun on our Bulletin Board or just read along and see what kind of silly people figured out how to type some words and hit the Post button.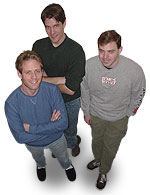 Us (are you tired of
this picture yet?)



Gerard - Our
Awesome PR Guy!
---
Quick Links:
Start | Trip Info | Route Map | Journals | Photo Gallery | Ask Kev & Sor
Preparation | Contact Us | Contribute | Guestbook | BulletinBoard | Store
Cool Sites:
Lost Luggage Tales -
Travel the world... Tell your tales... Real stories from insane adventures.
---
©2023 YouGuysareStupid.com
All Rights Reserved (you know, for future use or whatever)
Trip Span: June 1, 2003 - October 18, 2003
Site development by Digitolle.net